Bal Yesu Bhavan - Nasik, India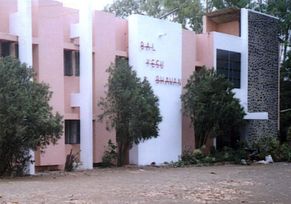 The "Bal Yesu Bhavan" home in Nasik, India became a part of Omega's mission work in India in 1999. It began with a small home to accommodate approximately thirty boys. Its primary objective was to rescue the street children of Mumbai (Bombay) and to provide a home for them.

The home has grown to a large two-story facility that can house up to 200 children. For years the facility existed for the care of boys, who before leaving our care, were given a good basic education and vocational training to prepare them to make a living.

---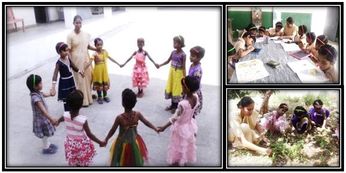 This past school year, the remaining boys 'aged out', and during the summer, repairs, upgrades, and modifications were made to the building. It has now been converted to a home for girls and boys. At this time we have 37 girls and 3 boys who are happy to be at the home. They understand that education is important, and they are eager to learn, as well as having time for playing and doing some gardening.

The home has enough space to accommodate many more children, so we hope to admit more girls in the near future.

Since Bal Yesu Bhavan opened its doors, more than 4,000 children have started a new life here.
---
Omega Children & Elderly Care Center - Vijayawada, India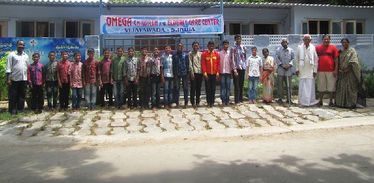 Omega Children and Elderly Care Center under the direction of Dr. Joseph Moses, is our outreach home for young boys, and elderly men and women.
We would like to find sponsors for the boys through our child sponsorship program. It takes a mere $30.00 per month to sponsor one of our children.
We are also needing compassionate donors for the elderly. There is no set monthly amount for the elderly as in the child sponsorship program,
however there is a definite need! To read more...
---
---
Omega Happy Homes - Calbayog City, Philippines
---

---

The children's home in Calbayog City was established in 1999. Land was purchased, and three temporary buildings were built with bamboo, plywood and thatch. One of the wonderful aspects of this property was that it was located near a paved road, and that an elementary school was very near.

Though picturesque, one challenge of the property was that it rested alongside a hill, which meant that much work needed to be done to level the construction area. Fortunately, many of the neighborhood youth pitched in to meet the challenge. This toilsome work had to be done by hand, because there was no access for heavy equipment to the building site. The three temporary structures of bamboo, plywood and thatch accommodated the first boys and girls and had a kitchen and dining room. The number of children grew over the next three years from 10 to 22.

There was a need for a permanent structure in order to be granted official licensing by the government, and the new solidly built 'Omega Happy Homes' were dedicated on December 12, 2004.
Girl's Home - Bacolod, Philippines
The city of Bacolod is located on the Philippine island of Negros. Because of an earthquake and typhoon that devastated the southern part of the island in 2011, Omega provided emergency aid to the victims in the affected areas, and that was the beginning of new mission outreaches on that island.

For more info about this mission, click here...