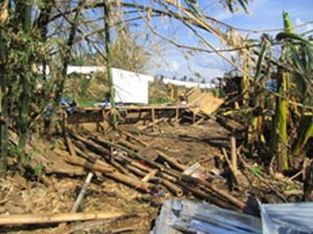 On November 8, 2013, a super typhoon devastated the central parts of the Philippines. Both of Omega's mission projects, on the islands of Samar and Negros, were right in the path of this massive storm. In spite of the devastation around them, our children's homes and our people survived unharmed.

This placed us in the unique position of providing emergency aid to the victims, because relief from the government and large aid agencies could not reach most of the affected areas due to airports being damaged and roads washed out and littered with debris.

Calbayog, Samar: The city of Calbayog did not receive as much damage as we had feared, but the surrounding towns and villages were hit hard, and many of the victims rushed into Calbayog looking for food and shelter. In addition, Calbayog accepted large numbers of evacuees from Tacloban, where the typhoon made landfall and destroyed nearly 80 percent of the city's building.

Bacolod, Negros: The typhoon caused a lot of damage in Bacolod and the surrounding villages. The girl's home survived the storm, because it is a solid structure. Our emergency relief teams went into action immediately taking food and other essentials to the victims. The volunteers from Bacolod were also able to take several truck-loads of supplies by barge to the neighboring island of Panay.

It will take some time for the people living in these devastated areas to recover. They lost their homes and livelihood, and due to the destruction of businesses, many are unable to find jobs. Omega will continue to provide help as much as possible.

---